Academy
about
Sustainable
Agro @ Environmental
Energy alive
Natural Quantum Powers™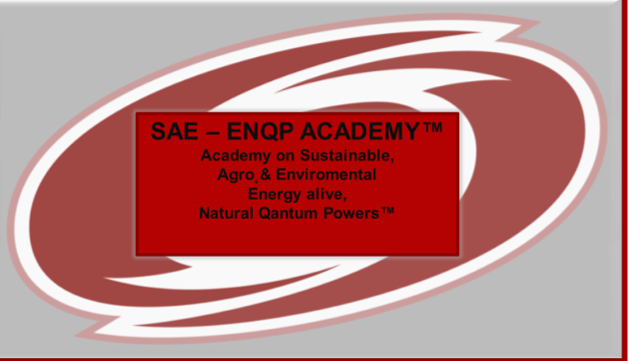 Call for subscribe and apply to attend on our

SAE-ENQP Academy™

2020!

SAE-ENQP Academy™ Program is about

advance knowledge, expiriences,

special skills,

which enabled to us

to for sustainable

Agriculture & Environment

succesfully developed

innovative, sustainable,

advanced, effective

NATURAL – QUANTUM BIOSTIMULANTS, WHICH DON'T CONTAIN ACTIVE SUBSTANCES.

On SAE-ENQP Academy™

will be this advanced knowledge

and our experiences

accessible to you as well.
The SAE-ENQP Academy™

P
rogram is divided into six thematic modules, which will be implemented in three years, per two modules per year.
Each module lasting 6 educational days, 10 school hours per day. This means that it lasting 360 school hours.
Is this for you?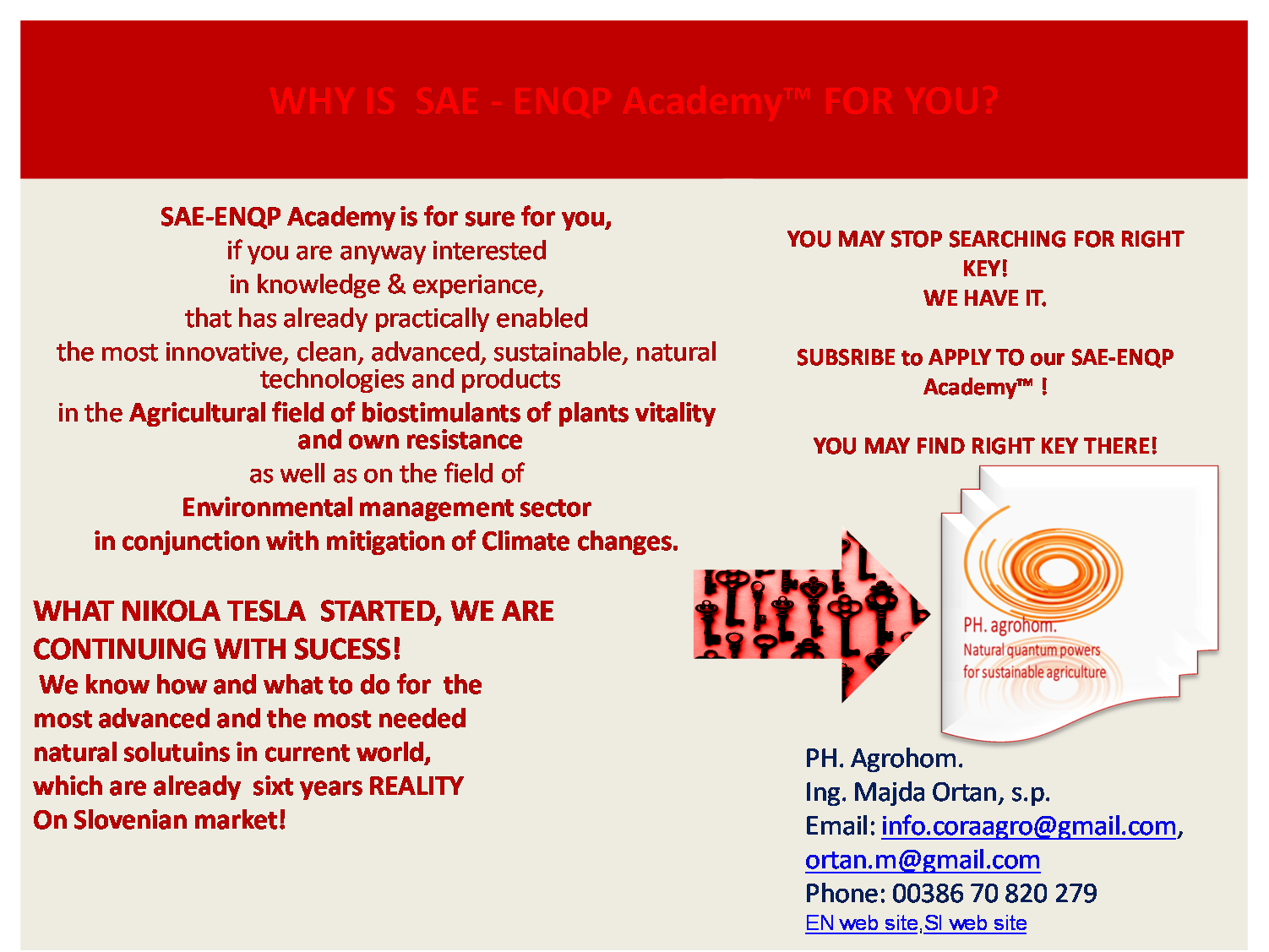 NOW IS ACTUAL:

First modul of SAE ENQP Academy™ 2020, will start on 23rd of March 2020 and will last until 28th of March 2020.
Speaker, teacher, mentor:
Majda Ortan, ing., Execute Director,
founder & owner of company Ph. Agrohom.
Introduction is under link here.
Lectures will taking place

in one of conference rooms of

Hotel Salinera in Strunjan

.

Which one, we will know, when we will have final numbers of participants. About this detail we will inform you after your suscribe.
It's high recomended to booking your room i

n the same hotel

.

When booking, please tell them, that you are the participant of educational & training program, which will take a place in their hotel.
On first Module starting, we will

start with registration for participants

on 23rd of March 2019 from 8 o'clock to 9 o'clock;
Because of organizational reasons

we ask you to ASAP subscribe for attend –

while we need finally confirm number of participants for Hotel booking needs. Suscribe on the email adress: info.coraagro@gmail.com.
UNDER LINK HERE please find out more about SAE-ENQP Academy™ 2020:
PROGRAM of

SAE-ENQP Academy™

2020, COMMERCIAL TERMS,

P

RICES, PAYMENT TERMS, INSTRUCTION FOR SUSCRIBE (LOG -IN) and other information about details!
PLEASE NOTE: Applications are accepted until attenders places will be occupied – or untill the date of needed finally confirming number of attenders for hotel booking needs. So we recommend to you to ASAP subscribe to attend.
Lets suscribe now! How to suscribe to attend: Those Instruction are part of Program – available under link HERE! You are welcome!
Majda Ortan, ing., Executive Director of Company, owner & founder
Our contacts:
PH. Agrohom., Ing. Majda Ortan, s.p.,
Email: info.coraagro@gmail.com,ortan.m@gmail.com,
Tel.: 00386 (0)70 820 279, EN web site, SI web.site
Why we are right teachers & company to teach others about so advance technology and the mode of developing so advanced products – advance, breakthoughting ,sustainable, Natural – Quantum Biostimulats without active substances for use in agriculture and horticulture?
There are more than one reasons. I expose the main two:
–
BECAUSE I DEVELOPED OUR NOVEL, BREAKTHOUGHT ADVANCED, NATURAL & SUSTAINABLE BIO-QUANTUM BIOSTIMULANTS WITHOUT ACTIVE SUBSTANCES. My enterpreneur company is their producer, I am advisorin and teacher, when needed. I am for sure the best possible choise to execute this Program of SAE ENQP TM Academy 2020. I hope that my students become also teachers for other interested people after finnished this educational program and after gaining some own practice experiances.
-Because, we did it in practice: please, take a look under this link.

Lets suscribe now! You are welcome!
Majda Ortan, ing., Executive Director of Company and Company owner
Our contacts:
PH. Agrohom., Ing. Majda Ortan, s.p., Email: info.coraagro@gmail.com,ortan.m@gmail.com,
Tel.: 00386 (0)70 820 279, EN web site, SI web.site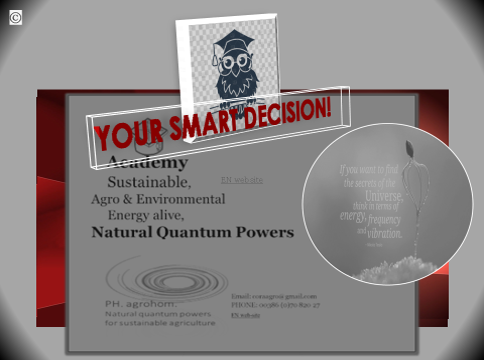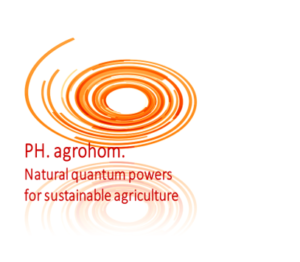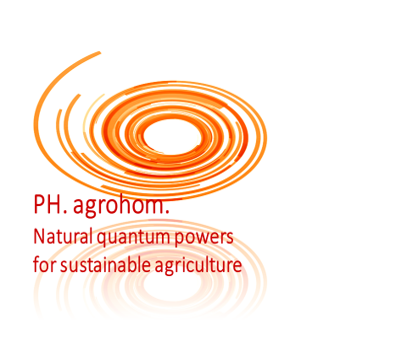 PH. Agrohom., Ing. Majda Ortan, s.p.,
Email: info.coraagro@gmail.com,ortan.m@gmail.com,
Tel.: 00386 (0)70 820 279, EN web site, SI web.site