Tomato Leaf Miner/Moth (Tuta absoluta) in many parts of the world is becoming a pest of tomatoes, causing huge damage to tomatoes growers.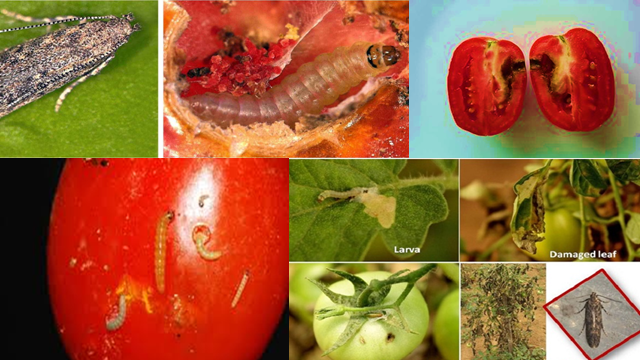 EXCELLENT NATURAL, SUSTAINABLE SOLUTION to NATURALLY PREVENT PROBLEMS with Tomato Leaf Miner/ Moth (TUTA ABSOLUTA POVOLNY), by appropriate spraying with spray from our BIO-QUANTUM BIOSTIMULANT
NATURALLY BIO-QUANTUM BIOSTIMULANT
NATURAL STOP:
TOMATO MOTH (Tuta absoluta Povolny)

INNOVATIVE, NATURALLY SOLUTION: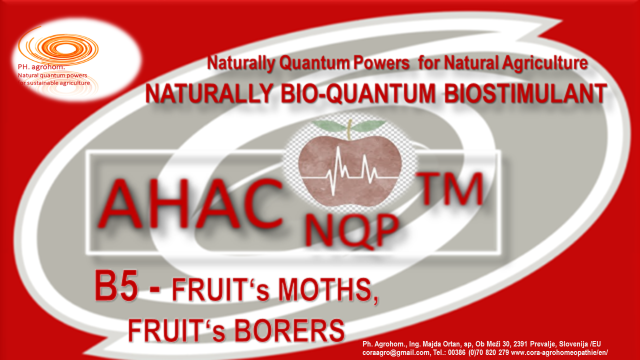 The same product in Slovenia is under brand name Cora agrohomeopathie® ALSO PERMITTED FOR ORGANIC CROPS PRODUCTION, it is WITHOUT WITHDRAWAL PERIOD (CROPS ARE ALSO EDIBLE IMMEDIATELY AFTER SPRAYING) and it is on Slovenian market available already 8 years!
It is recommended preventive use of the product.
MORE INFORMATION: in the text under this link and on our EN WEB SITE

Information for interested and appropriate FOREGIN B2B Distributors, Importers/ Exporters: coraagro@gmail.com, Tel.: 070 820 279; Contact person: Majda Ortan, ing.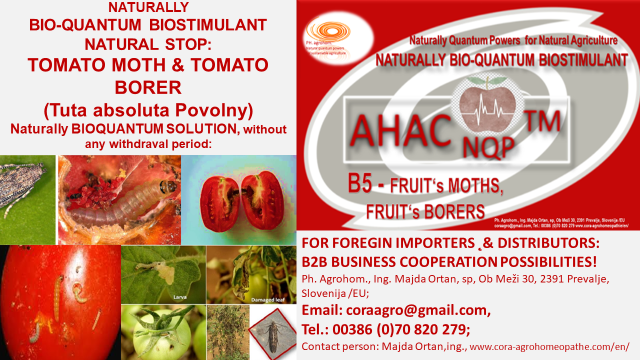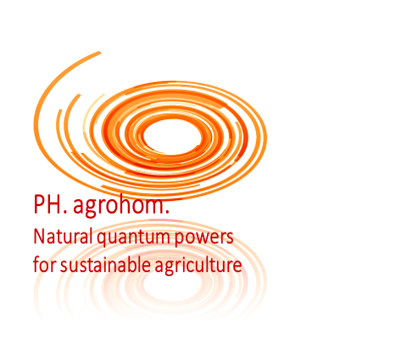 FOR THOSE, WHO WANT MORE!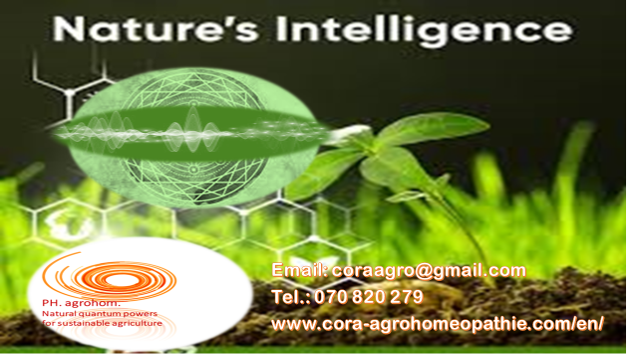 DO YOU WANT TO LEARN & WATCH MORE ABOUT NATURALLY BIO – QUANTUM BIOSTIMULANTS, ABOUT EXPOSED BEST AGRICULTURAL PRACTICES ACHIEVED WITH THEM AND MONITORED BY AGRONOMISTS?
CHECK, IS THIS IS FOR YOU: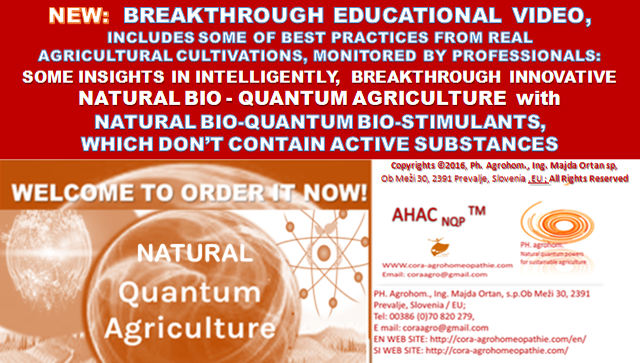 YOUR OFFER & INSTRUCTIONS HOW TO ORDER ARE AVAILABLE HERE!
YOU ARE WELCOME TO ORDER NOW!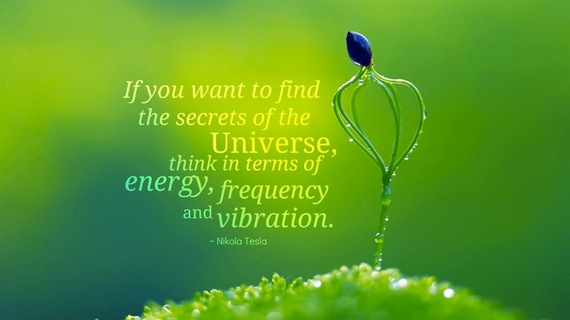 DO YOU WANT EVEN MORE?
Do you want to be among the FEW OF FIRST COMPANIES providing advanced, breakthrough innovative, naturally, sustainable solutions for crops production – Naturally BIOQUANTUM BIOSTIMULANTS for NATURAL QUANTUM AGRICULTURE?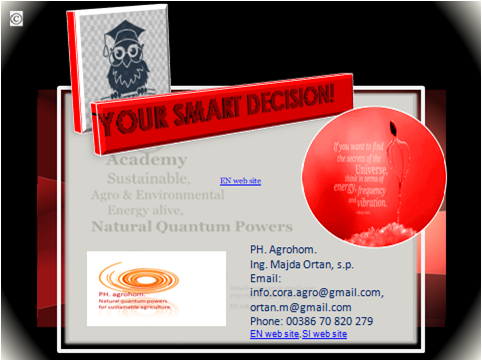 CHECK, IF PROBABLY THIS IS FOR YOU :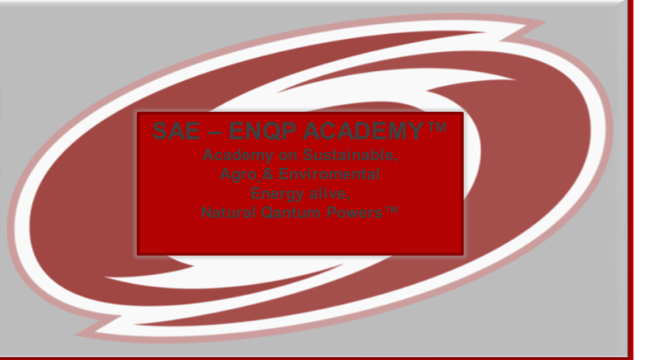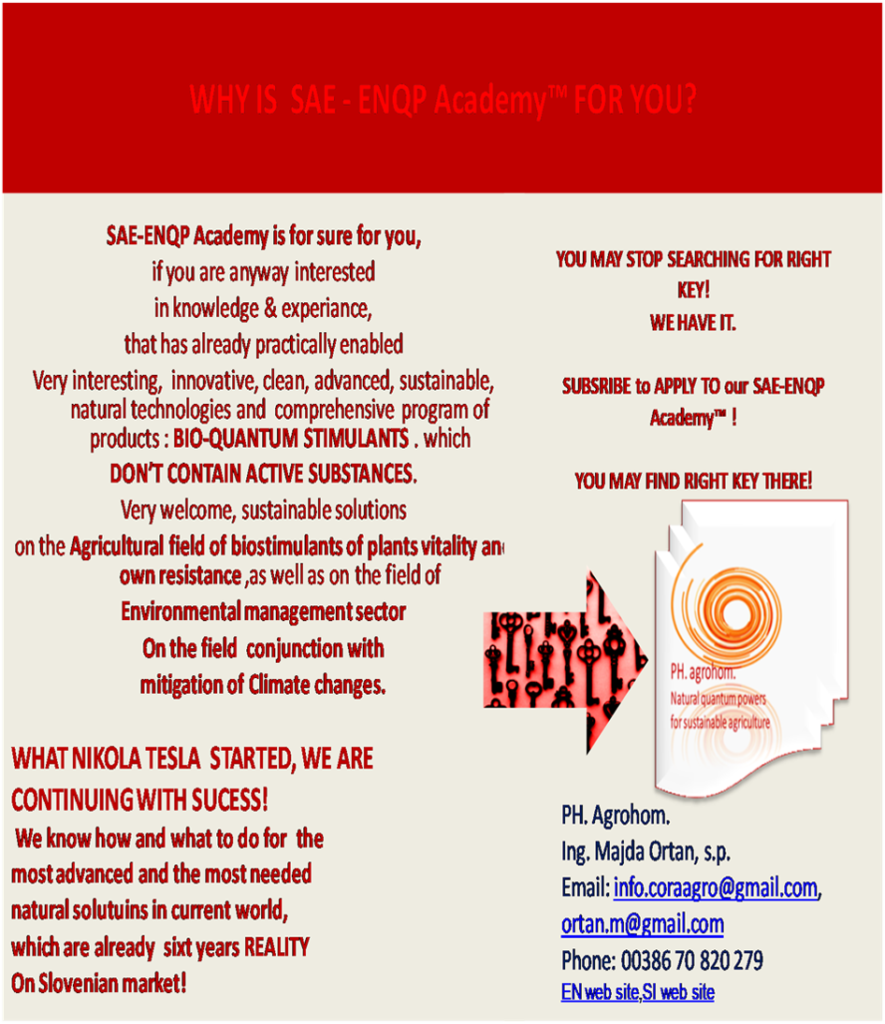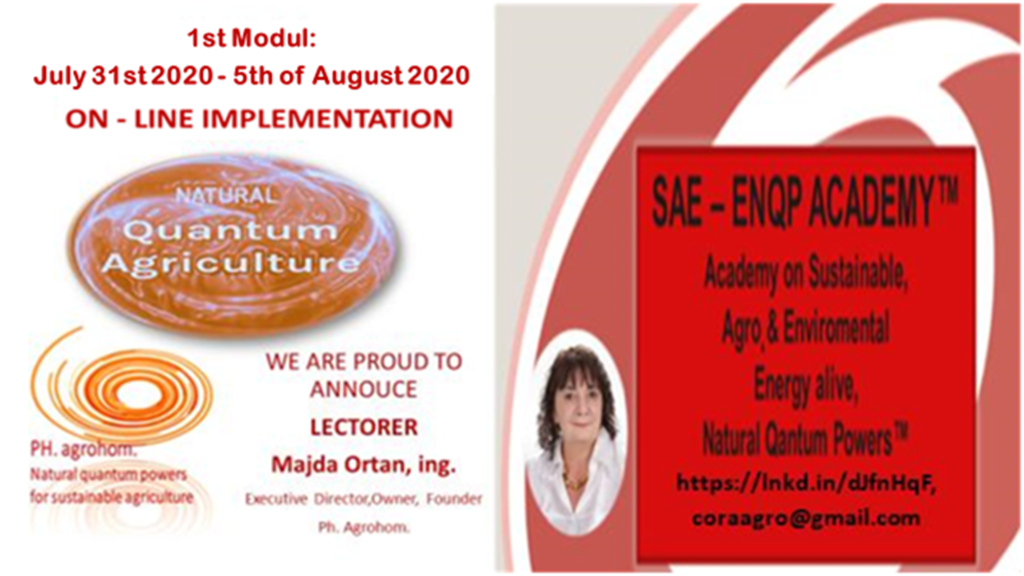 Launching of SAE-ENQP Academy™ 2020 is started. NEVERTHELESS, YOU STILL HAVE THE CHANCE TO PARTICIPATE IN NEXT EDITIONS! BUT, IT'S NOT ALWAYS SMART TO WAIT! PLEASE, NOTICE: FOR CLOSED GROUPS (of Company, Institution, Organization, etc.), there IS DURING THE YEAR 2020 ALWAYS POSSIBLE TO ORDER ON-LINE IMPLEMENTATION OF Program of our SAE-ENQP Academy™ – FOR CLOSED GROUPS (from min. 30 attenders to max. 100 attenders). If you are interested, please send your email request on email coraagro@gmail.com (contact person Majda Ortan, ing). We will agree about terms / dates of possible on-line implementation of Modules.
INVITED TO ORDER. You're welcome.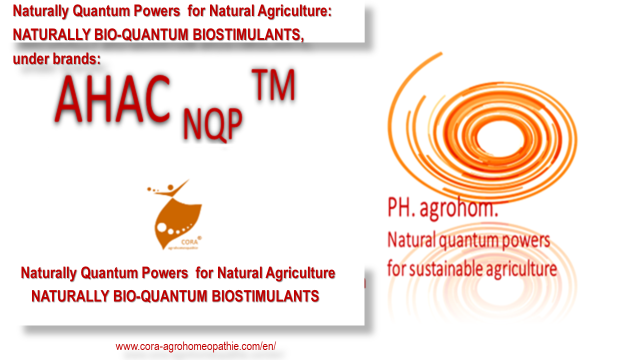 PH. Agrohom., Ing. Majda Ortan, s.p.,
Ob Meži 30, 2391 Prevalje, Slovenia / EU; Tel: 00386 (0)70 820 279, E mail: coraagro@gmail.com,
EN WEB SITE, SI WEB SITE, FB , LinkedIN