By Majda Ortan | Updated Version – 13th September 2021
WHY?
Becouse ITS OWN LANGUAGE NATURE SPEAKS ALSO IN OUR AGRICULTURE, also on all fields on the world, also on every garden on world. This wouldn't be changed! Real language of Nature are Naturall Frequences, that's how Nature is "speaking, acting, doing, cooperate". While very rare people know this language of Nature and how to use it in Agriculture, to it may indeed be Sustainable and Naturally, there is appeared "a communication eclipse" between Nature and Humanity, which affects a large number of reasons for today's burning global problems with food production in agriculture and home gardening, the increasingly problematic provision of food security, climate change!
FOR WHOM?
For all those, who want or need to attend for reasons. There a lot of possible reasons, I want to expose two groups of them:
FIRST group of possible reasons:
For those, who want to grow healthy food, take into account the ways / modes in which Nature has lived since time immemorial. More or less – none of what today the agro-profession and growers call "naturally grown" speaks the language in which Nature communicates and the way in which Nature interacts with everything it involves. Nature language is the language of frequencies that are hidden from our eyes, which does not mean that it does not concern us and that we can continue to be separated from it. Frequencies are basically, conditionally and causally- consequential behind all biochemical life processes, including the background of all substances produced in these processes, including the background of life in all ecosystems. Therefore, those who indeed grow in accordance with Nature, need to enable and regulate that in the growing- production of food for humans and animal feed all life processes take place as a result of natural frequencies. Namely, when this natural balance is disturbed or. disabled (which is standard indeed in agricultural production as we know it today) are the result of symptoms we call problems in food production. How can we strengthen this disturbed natural balance in agricultural, horticultural, home gardening ecosystems naturally? This has been my life's challenge, and with many good practices and results achieved in real agricultural production, it has been repeatedly confirmed that this mode of the solution is excellent, sustainable, and certainly offers an important part of solutions to many global challenges regarding food production, climate change, weakened own immunology of soil, plants, animals, humans). SAE ENQP TM ACADEMY 2022-2024 is for sure for you if you want (or even need) to get some of this valuable breakthrough advanced knowledge and experience. And yes, those who will complete this Program, they will also understand these solutions and know how to use them correctly.
SECOND group of possible reasons:
ALSO if you / your company are interested on learn HOW TO RAISE THE MONEY VALUE OF CURRENTLY PESTICIDE_CONTAMINATED ARABLE LAND and at the same time GET KNOWLEDGE & PRACTICAL EXPERIENCES in NATURAL QUANTUM AGRICULTURE, don't miss: this OFFER BELOW IS FOR YOU, for your company, Organization, Institution.
IN text below you will get some of great insights and also find out, why is this OFFER BELOW IS FOR YOU/ FOR YOUR Organisation, Company, Insitution.
SOME OF (my) VIEWS ABOUT " SUSTAINABLE EVALUATION" OF THE MONETARY / ECONOMIC VALUE OF ARABLE AGRICULTURAL LAND:
There is certainly a connection between the fertility of arable land and their monetary / economic value. NATURAL FERTILITY OF SOILS is that key good that most agricultural land on our planet no longer has today. Very soon became the past days when the monetary/economic – value of arable land was determined by its surface area, location, and quantity of harvested crops.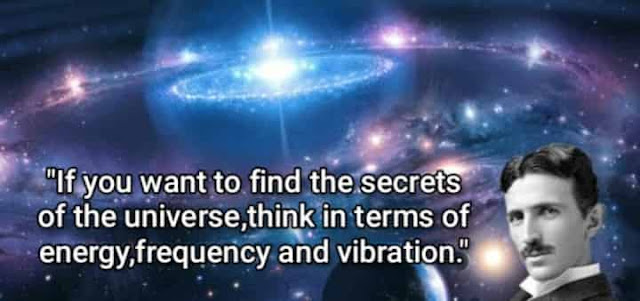 The key parameters which will certainly be reflected very soon also on the monetary/economic- value of arable land are natural fertility of the soil on an agricultural plot and the condition of groundwater under an agricultural plot. It can't be otherwise, since these are at the same time the key parameters that are directly related to the biggest global challenges of today (ensuring a sufficient amount of healthy food for a growing human population, providing enough health & energy alive water and climate change management).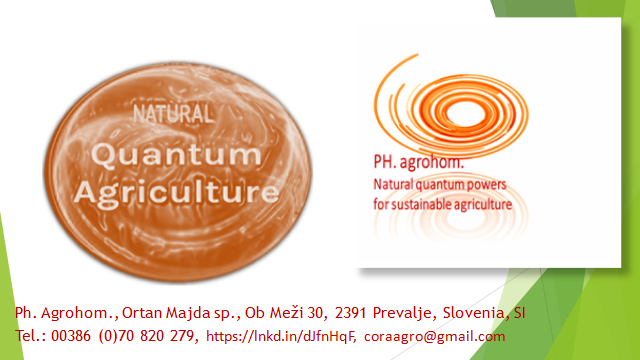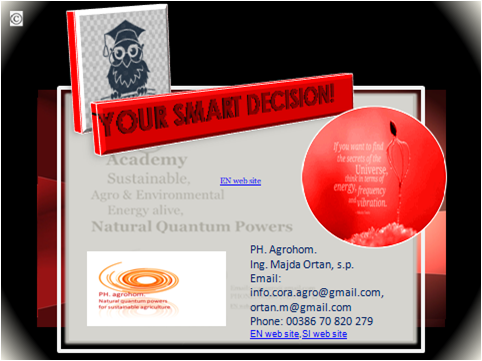 If you actively join us at our Academy (SAE ENQP TM Academy 2022 – 2024 ) , you will be able to advise growers on restoring the natural fertility of agricultural land, which they have lost due to long-term use of pesticides.The answer to how to regulate this lies in certain, are practically immeasurable NATURAL FREQUENCIES, not in the addition of such and other substances, microorganisms, etc.
Without the proper, natural energy frequency balance of the soil, the soil is impossible to be revitalized in the long run! Nowadays, v tako imenovanem naravnem načinu pridelave hrane, kakor tudi v tako imenovanem ekološkem načinu pridelave hrane various "natural" substances, microorganisms, are added to the soil, but when we start with that, this must be repeated indefinitely. Thus, per my opinion, one (chemical) dependence of the soil (and plants) is just replaced by another ("bio") dependence, and this is certainly not a sufficient solution to may be found in Nature and to may be imitated by Nature. So these are per my understanding not really sustainable solutions.
In the light of modern agriculture, ensuring a sufficient amount of healthy food for a growing human population, providing enough healt, energy alive water and climate change management, such Sustainable evaluation of the monetary / economic value of arable agricultural land is certainly an inevitable future that is actually already here. No one who has nowadays and longer-term business plans in Agriculture indeed can NOT basically afford to overlook this exceptional, modern, up-to-date knowledge and successful practical experience, stated in content below.
INFORMATION listed below have found you. So, YOUR TIMELY AND APPROPRIATE RESPONSE to the information I share below allow you decide about question: Will you/ your company be able to become part of the solution to the most pressing global problems and are you allow yourself / your employees to gain the necessary practical knowledge to spread these solutions among the customers (farmers ) you serve. Welcome to order – to take your seat(s) on SAE ENQP TM ACADEMY 2022-2024.
If we could turn back time to return to the conditions in which we could grow enough natural, healthy food, healthy environment, clean water, healthy Nature, the healthy and whole magnetic shield around the Earth's atmosphere … To be according to the Natural Order as before protected from the intrusion of solar storms and harmful EM radiation … Well, we don't know how to turn back time for practical use! However, we can naturally strengthen energy balances in the soil, plants, and in our food. Without artificial frequencies of course. This is what I had in mind at the birth of Natural Quantum Agriculture, Horticulture, Home Gardening. This is the way Nature works, the Natural Order at the level of the life forces and energies of everything that exists in Nature. Practically, this means that we produce food with appropriate biostimulants of natural origin, which are free of active substances, their active ingredient is the appropriate natural energy, specific to each plant, soil, ecosystem. This is the level at which, according to the Natural Order, "communication between plants, soil, minerals, microorganisms, insects, animals and also humans.
OUR ADVANCED NATURAL QUANTUM AGRICULTURE mimics the mode of quantum harmonization used by plants and minerals at the energy level in Nature. Already from 2013, Slovenia (a small EU country) has already produced – grown energy alive food by the use of our advanced, innovative, sustainable, NATURAL BIO-QUANTUM agro-BIOSTIMULANTS, which don't contain active substances. Products are diluted, used as sprays, and are in Slovenia allowed also for use in the organic mode of farming and gardening. On the Slovenian market they has been available for 8 years as products for general use in the category of products for plan's strengthening. Very good results encourage us to share this precious, modern knowledge and experience with others. This is more than necessary at a time when humanity is looking for sustainable solutions to many challenges in agriculture, in the field of sustainable management of natural resources, climate changes, ecology, needed regenerative approaches in agriculture, environment, urban environment, as well as strengthening own immunology of humans as well as animals and plants.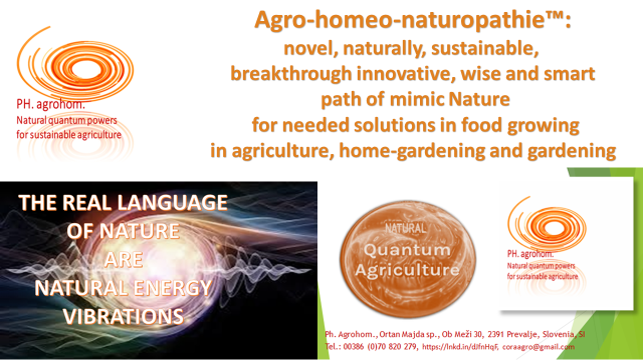 MY CO – INNOVATION APPROACH allows and invites You / Your Company/ Organization/ Institution to join!
ONE OF OUR MODE OF SPREAD THE IMPORTANT, VALUABLE, VERY RARE KNOWLEDGE and AUTHENTIC EXPERIANCE: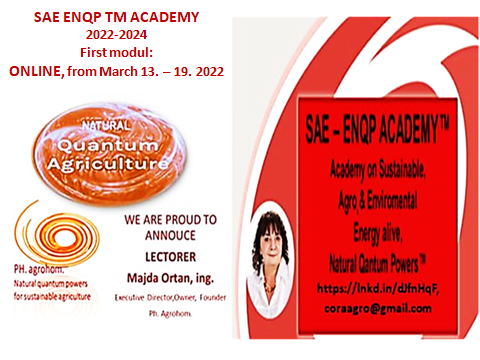 WE ARE LAUNCHING ENROLLMENT for ATTENDING on the PROGRAM of SAE ENQP Academy 2022/2024!
1.
OFFER FOR INDIVIDUALS:
Implementation of all six Program's Modules will be in the online "classroom". Under link here is the SCHEDULE for all 6 Modules, and under this link you may find out the Program.
The first module will begin on MARCH 14. 2022 and will last until MARCH 19th, 2022. Schedule for all six Modules is available under this link.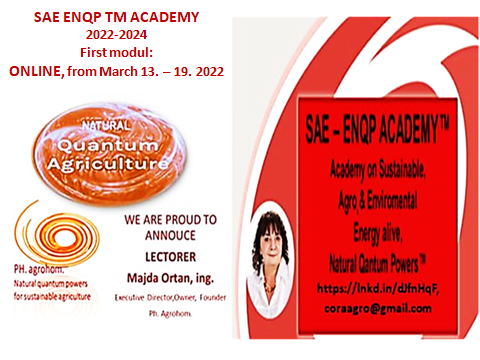 About the PROGRAM of SAE ENQP™ 2022-2024 & INFORMATION about COMMERCIAL TERMS, PRICE, PAYMENTS, REGISTRATION and HOW TO SUBSCRIBE are under this link!
INVITED ATTENDEES: Agricultural Consultants, Environmental Consultants, Food Consultants, Bigger agro-DISTRIBUTORS NETS, Agriculture COOPERATIVES, farmers, Academics from agro field, Students from agro fields, Researchers from agro fields, other interested!
INFORMATION: under this link!
Email contact: coraagro@gmail.com.
Extended deadline for applications and for whole tuition advance payments: NOVEMBER 30. 2021! Applications are possible only until the occupancy of the seats.
Our REFERENCES: some of them are available under links here and here.
INVITED TO ORDER SOON to get your seat in THE PROGRAM of SAE ENQP Academy 2022/2024! Looking forward to welcoming you in the group of Attendees of the SAE ENQP Academy Program 2022 – 2024.
2.
ADDITIONAL OFFER FOR COMPANIES, INSTITUTIONS, ORGANIZATIONS…: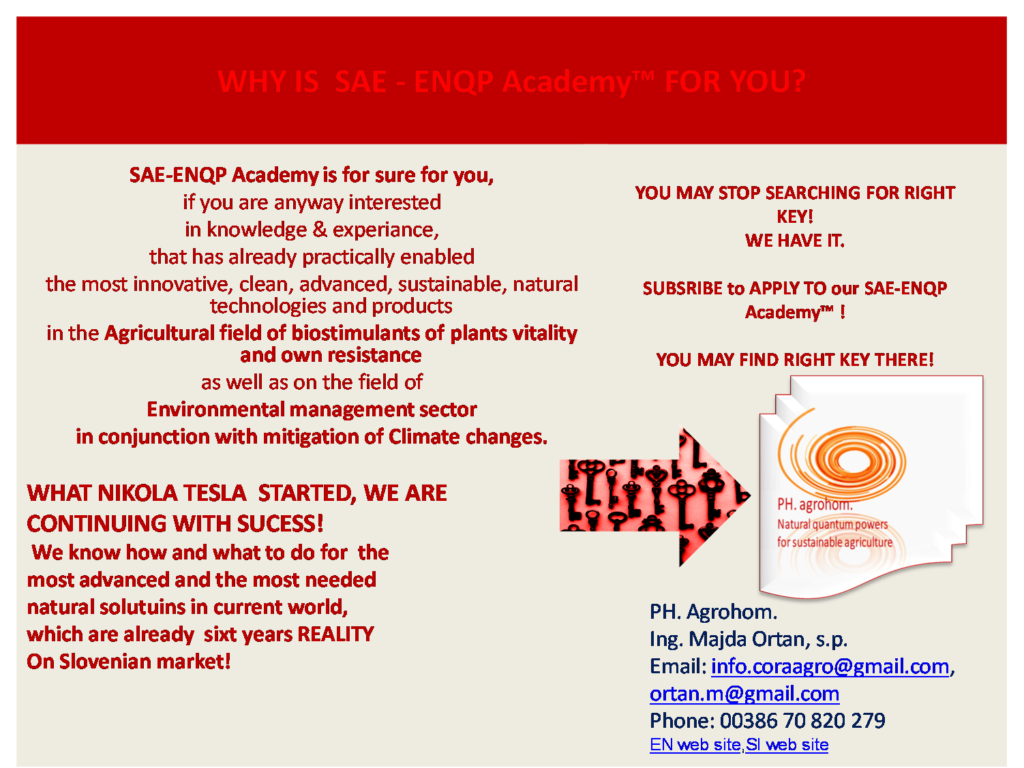 It's also possible to order implementation of SAE ENQP Academy, FOR CLOSED GROUP OF PARTICIPANTS (from the same Institution or from the same Company). It's needed that such group has minimal 30 and maximal 100 attenders. The Program is the same as in our standard offer, implementation will be online, the dates of modules implementation will be agreed upon during the order process. In the case of interest for ordering, it's STRONG RECOMMENDED to do it before of NOVEMBER 30. 2021. Once the free deadlines for implementation are occupied, registration will no longer be possible!
PROGRAM of SAE ENQP™ 2021-203, INFORMATION about COMMERCIAL TERMS, PRICE, PAYMENTS, REGISTRATION, and HOW TO SUBSCRIBE are under this link!
Our REFERENCES: some of them are under links here and here.
New knowledge is important! Get the edge, take advantage of this opportunity: YOU ARE WELCOME TO SUBSCRIBE for ATTENDERS.
SOON ORDERING BRINGS YOU YOUR SEATS in the Program of SAE ENQP TM Academy 2022 – 2024!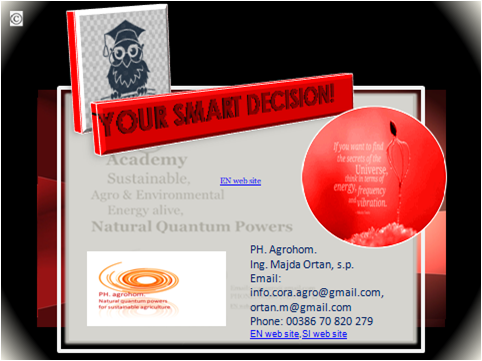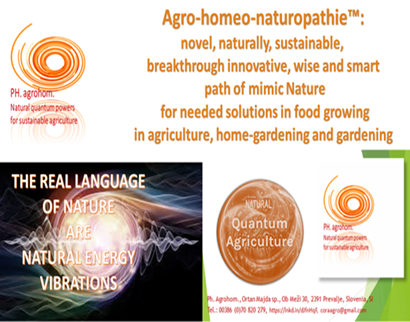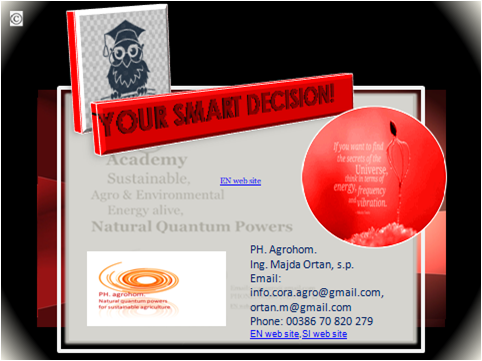 Majda Ortan, ing., Head, Founder, Owner
Ph. agrohom., Ing. Majda Ortan, sp., Šmiklavž 26, Šmiklavž, 2380 Slovenj Gradec; SI – Slovenia / EU
Email: ortan.m@gmail.com, coraagro@gmail.com
Tel.: 00386 (0)70 820 279
LinkedIn
Category: e-LIBRARY, Lectures, Presentations, Speeches
Tags: NaturalQuantumAgriculture, QuantumAgriculture, SAE-ENQP-Academy