WHEN THE PLANTS REMEMBER…, OR: WHAT, IF THE PLANTS HAVE ALREADY and ALWAYS REMEMBER …
By: Ing. Majda Ortan, Ph. Agrohom., Ing. Majda Ortan sp., Ob Meži 30, 2391 Prevalje, Slovenia, EU / EN WEB SITE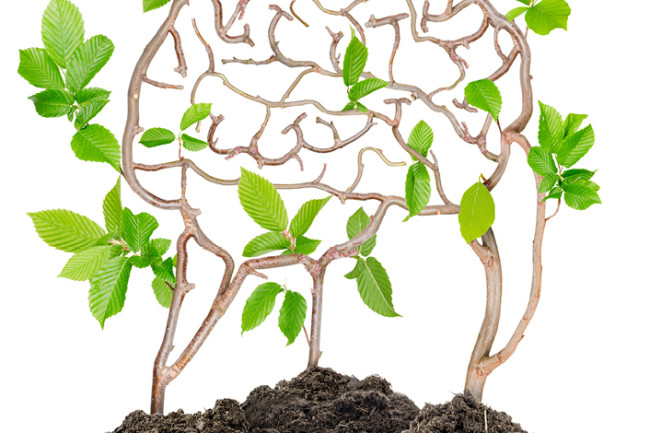 Here and there, what is hidden from human eyes is "leaked out". What is difficult to comprehend, perhaps even unbelievable for the "trained" masses of people, for Nature and the Natural Order is natural and ancient. Is it right for mysteries to fall? Are completely new life-changing possibilities emerging behind the unfold veils? That is right in the name of life on the planet, a better present and a better future. Is better relative? Better is connected with balancing, perception of the Natural Order and thus with the possibilities to actually get to know it, perceive it, accept it and take it into account. No, it is not regression, it is progress, awareness and empowerment.
For decades, Quantum Physics and Biophysics have been proving for decades and clearly explaining that it is necessary to put aside Newton's spectacles. As it turns out, this is not easy for those who design school systems. What is visible and tangible to people is not the only reality. This is only a limited perception, because the particles of matter have a dual nature – they behave as material particles and as energy, electro-magnetic waves. So why would we give up Natural Truths because of ignorance? Even if people do not acknowledge them for any reason, they are living Truths and this is Natural Life. It gets worse when ignorance causes harm, suffering, disease, famine, destruction and death. Ignorance causes this to the ignorant … so it is good that here and there is "leaked out" what is hidden from the human eye and the so-called intelligence of the human masses.

Remember what you were taught about plants in schools and at home? On what basis did you form your relationship to plant creatures? Not long ago, it was considered (in a limited way) that plants were "machines" without senses. Today's scientific research confirms the vision of poets and sages that plants can communicate, remember, learn, and have something that could be called Personality or Soul…
NOTHING STATED BELOW IS NOT ESSENTIALLY NEW, WHILE EXIST
SINCE NATURE HAS EXISTED
Plants have the ability to perceive
Plants are able to perceive and distinguish sound that the human ear cannot hear. They react to frequencies of the solar spectrum such as infrared and ultraviolet light. Plants are particularly sensitive to X-ray and high-frequency waves used by television technology.
The plants orient themselves and adapt in advance to the coming weather
Plants also have a sense of orientation and atmospheric changes. American pioneers and bison hunters have discovered that the leaves of a particular species of sunflower (Silphium lacinatum) always point exactly in a north-south direction, like a compass. The Indian relative of our St. John's wort (Arbus precatorius) is so sensitive to electrical and magnetic phenomena in the atmosphere that Indians predict the weather by its "behavior". Experiments done at London's botanical garden Kew Gardens have shown that earthquakes, volcanic eruptions and the arrival of cyclones, tornadoes and hurricanes can be predicted to some extent with the help of this plant.
The climbing plant always grows towards the nearest gripping point, but if we move the gripping point (e.g. a nail on the wall), the plant will change its direction of growth after only a few hours. This unexplained sense allows the plant to move through various obstacles through which ordinary people do not see, and unmistakably find a grip and wrap itself around.
Plants also see …..
Recent research have also revealed that plants such as thale cress form proteins that participate in the formation of eye-like structures that have been detected in simple single-celled organisms. In recent years, interest in the issue of the development of vision in plants has increased again. Recently, cell biologist Frantisek Baluska presented new evidence that could lead to the conclusion that plants are capable of visual perceptions. The key issue is the discovery of the true nature of an organism called Synechocystis cynanobacteria. This organism is supposed to behave similarly to some kind of simple eye. Although scientists are not yet entirely sure what the function of this structure is supposed to be, it can already be concluded from its existence that the structure has also developed in more complex, high order plants.
There is a myth about intelligence that originates only in the brain
The so-called intelligence of humanity, which conceives as intelligent what has a brain, has been shaken. These are higher-developed beings who have placed themselves at the top in terms of the development of living organisms. Humans attribute intelligence to themselves, to some extent also to animals that have brains and are according to human understanding able to learn from their experience. Humans also recognize memory for themselves and higher-developed animals. All other beings, however, are condemned by human generally accepted principles for not being aware of their uncomplicated life, nor of generations of the past.
Australian evolutionary ecologist Monica Gagliano and her colleagues are just one of those modern scientists who are discovering and revealing Natural Truths around the world. Modern man simply has to know and understand these truths, so that humanity on our planet will be able to live in such a way that the planet Earth will survive. Her articles and her book The Green Thread have undoubtedly shocked the scientific, professional and general public.
She publishes the results of experiments with plants, in which she applied the concept of the Pavlovian conditioning, as we know it from animal experiments, to plants in a sensibly adapted way. This experiment demonstrates associative learning in plants. Gagliano showed that plants don't just react to light and food to survive. They also choose and predict. Brainless plants show abilities that humans attribute only to the brain.
The brain is not necessarily needed for memory, nor for learning
This is evidenced by new studies, such as a study completed in 2014 at the University of Western Australia that focused on the "sensitive plant." Mimosa pudica closes the leaves in response to touch or sudden stress. By observing how M. pudica plants responded to constant exposure to stressful conditions that did not harm them, the researchers found that these plants can learn. In the experiments, the scientists made sure that nothing bad happened to the plants under stressful conditions, and these experiments were repeated on them for a long time. Plants very quickly stopped closing their leaves (which takes away valuable energy from the plant) in response to "alarm". What's more, one month after being exposed to the same "terrible" situation again, the plants did not respond by closing the leaves, thus showing that they were "remembering" earlier lessons regarding these stressful circumstances. Scientist Monica Gagliano and other scientists have also used experiments to prove how plants communicate, even make music, feel, choose …
How do plants remember?
The mechanisms are not well understood, but scientists point to the ability of plants to remember in their cells (despite not having brain and nerve tissue) on a sophisticated calcium-based signaling networks. Because they act similarly to memory processes in animals, these networks allow plants to change their behaviour as a result of past experience, even over a relatively long period of time.
Is fertilization perhaps superfluous?
As early as 1873, the Hanoverian Baron von Herzeele wrote a book in which he described his experiments, which confirmed that plants that absorb matter from the soil and air are constantly creating new matter themselves. Analysis found that adult plants inexplicably contain more potassium, phosphorus, magnesium and calcium than seeds. In his experiments he watered the plants – only with distilled water. He concluded that plants transmute e.g. potassium to phosphorus, magnesium to calcium, carbonic acid to magnesium and nitrogen to potassium.
Professor Pierre Baranger, director of the Laboratory of Organic Chemistry at the famous Ecole Polytechnique in Paris, wanted to verify Herzeele's claims. Ten years of experiments with a few thousand analysis have fully confirmed that plants actually transmute. In the process of germination of vegetable seeds, which takes place in a solution of manganese salts, manganese disappears and iron appears in its place. The conditions required for this process are, among other things, the sprouting time, the type of light, and also the lunar phase.
Every harvest of wheat, harvesting of corn, potatoes and other crops, along with fruits, also removes chemical elements from the soil. Given several thousand years of land use in some areas (e.g. in Egypt and China), soils should no longer contain magnesium today. Despite this, the soil is still very fertile and still contains magnesium in normal amounts.
Rudolf Hauschak also repeated many of Herzeele's experiments and found that plants create matter and also annihilate (etherize) it. He says that the laws of physics do not apply to living and non-living matter. "Life is not the result of merging elements but there is something that was before matter. Isn't it not more reasonable to assume that life existed much earlier and that matter is a product of the existing spiritual Cosmos?"
According to today's physicists, transmutation is possible only in nuclear reactions, which can only be achieved by supplying a high amount of energy. Herzeele's claims contradict this and suggest that biological phenomena in plants can not be described by known classical physical and chemical laws.
If we replace outdated, purely materialistic knowledge with the discoveries of quantum physics and biophysics, with current knowledge about the fourth phase of water and with knowledge about biophotons, these above-mentioned scientific opinions are put under critical review and outdated dogmas fall away. Knowing these findings, we should perhaps ask ourselves the right question: How do plants see us? How do they perceive us? What really triggers climate change?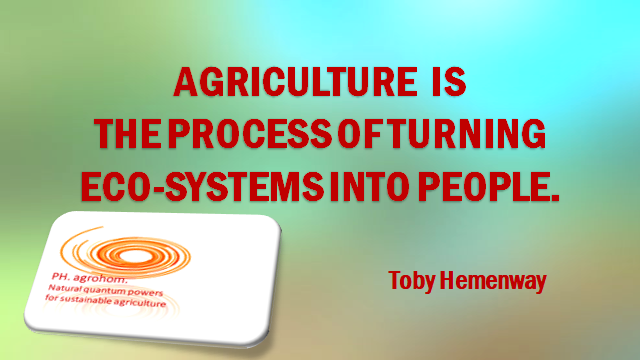 The fact is that our actions in food production have caused decades of unnaturally toxic violence to plants and soil, artificial chemical pampering with the addition of growth substances, which eventually (more or less deeply) rocked to sleep natural plant talents, including their own resistance and their own immunology. This is how we raise addicts to serve us as we designed – inconsistent with the Natural Order. It doesn't matter what the causes are (were). The consequences of our actions are happening now. It is probably no coincidence that such insights come to light in times when it is necessary to change our own actions, regardless of the fact that we have learned in their favour. We see and feel where blindly following surviving concepts has led us. The fact is that globalization has served us, among other things, with the knowledge of the need for the right choices of self-sufficiency – choice of domestic (Slovenes – Slovenian) products, especially those that we introduce into the soil and plants that we grow for our food. The fact is that mere profit-seeking retailers are not interested in this, and that despite nice words about the health of the environment and people, they are only interested in the shortest route to your wallets. REMEMBER, THERE ARE REALLY NO CHEAP DEALS! The bill always comes due. Many times with a delay, so people are not aware of it and blindly buy foreign, cheap and in a attractive packaging piled-up promise. If only they were just empty… In reality, however, time shows its truth to the blind people with its apocalyptic riders: pestilence, war, famine, and death. What we cause to plants, we cause to ourselves. The consequences of these actions also reach us, our loved ones, other people, ground, soil, … they reach us through food, water, air, energy vibrations and build us up. The Bible already clearly states: "DO NOT EAT ANY ABOMINATIONS!" This is a basic teaching that should become our rule of life, we should believe in it and implement it consistently!
Who can we rely on?
Let us be aware that in these times, it is important and decisive that people learn for life, accept modern knowledge and put aside obsolete concepts. On most diplomas, master's degrees, doctorates, consulting licenses, the dust of the past and the obsolete concepts accumulates fairly quickly. We have brains, so we use them. We have experiences – we learn something from them. We have intelligence – we learn from current knowledge and use it. We have a choice – let's say NO to foreign offers and let's sovereignly choose ours, Slovenian. Especially food and everything we need to buy for plant production. Let's choose sustainable – in this case, when appropriate, less is more! Even if for the same money we get a few less domestic sustainable products – we pay the final price which is known! We have good examples – let them motivate us. We still have our lives on Earth – let us respect them and let us respect all the kingdoms of Nature. What we don't know still exists! Let us be receptive to the Natural Order and to the concepts that reveal and summarize it. We follow the Natural Order and the Ourselves – feelings, thoughtful choices, not emotions and emotional reactions… The time of breaking myths can be quite painful for those who identify themselves with what they have learned in the past and what they have achieved in their personal career paths in the past. Such were the upbringing, the examples, the values, the programming. But even these will pass, as it is not necessary to continue to generate this and to get unnecessarily involved in it.
The words will have to be put into practice soon.
What, if we have already achieved it? Let me indroduce to you the practical case,which is already alive in practice: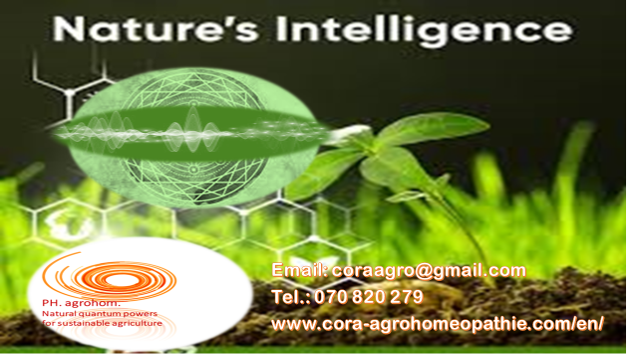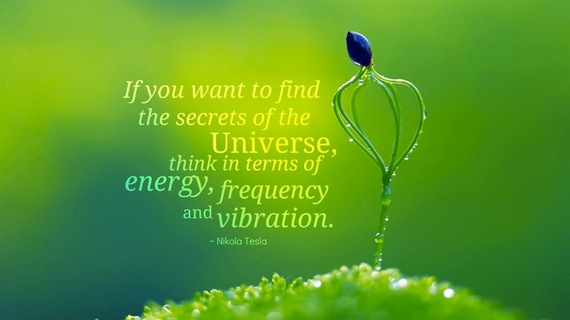 In my entrepreneur company we have been doing this for 8 years now as Producer by developing, manufactoring & sale of our natural energized, homeodynamic, bioquantum biostimulants (available in Slovenia under brand Cora agrohomeopathie®). For export they are available under brand AHAC NQP TM.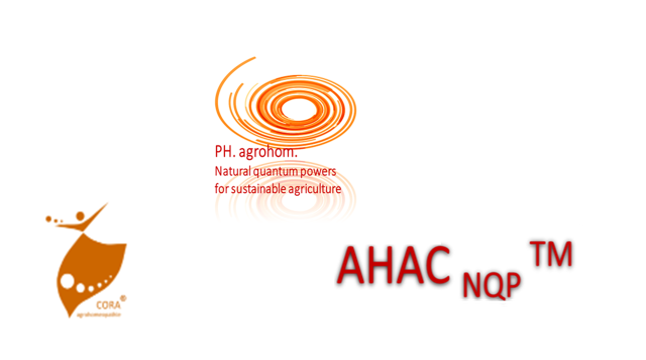 Under this link: List and specification data sheets for Export of our Products, which don't contain active substances, but appropriate natural vibrations from appropriate complexes of plants and minerals. In the form of spray, properly diluted with water they strengthen their own vitality of plants, soil, ecosystems on the level of their Life Forces and so implicite strengthen their own immunology, their own resistance to certain plant's diseases, plan's pests, all kinds of plant's stress,…
GROWERS ARE INTERESTED IN PRACTICAL SOLUTIONS AND WE ARE HAPPY TO OFFER THEM. A LOT. ALSO SUCH BEFORE PROBLEMS WITH INVASIVE ALIEN PESTS. UNDER THIS LINK IS A GOOD EXAMPLE THAT WILL ALL OVER THE WORLD CHEER FRUIT GROWERS, ALL KIND OF BERRIES GROWERS, AND LATELY – PRESUMABLY TOMATO GROWERS.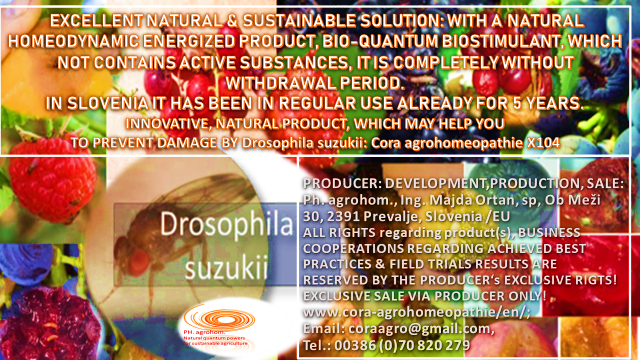 On the official website of the Chamber of Agriculture and Forestry of Slovenia Magazine "Green country" ( = KGZS magazine "Zelena dežela"), they already in year 2016 wrote the following about Cora agrohomeopathie® products: "Many good user experiences and the results of preliminary cultivation experiments confirm the great potential of using the preparations in all methods of plant production."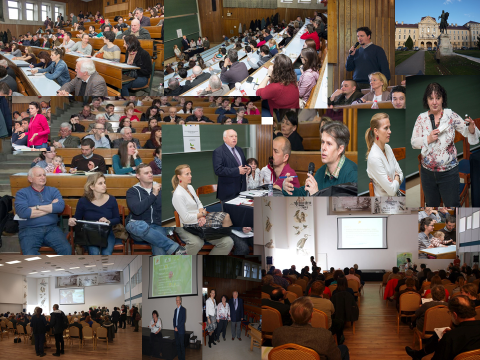 Transferring this innovative, extremely rare, unique and valuable knowledge and experience is part of my professional mission and part of the mission of my entrepreneur company.
A wide range of attractive, useful seminars and workshops – on the subject of sustainable, holistic production of energetic live food, by presenting some of the exposed good practices using Cora agrohomeopathie® products. The online seminars are suitable for experts from the agro-food sector, for agricultural consultants, as well as for supporters of a healthy way of food production, gardeners, members of associations, garden centers and the like.
Lecturer – ing. Majda Ortan, s.p., – I am the author and holder of the Cora agrohomeopathie® project, founder, sole owner and CEO of my private company, lecturer and coach and developer of all Cora agrohomeopathie® products – we produce products in our own production in our company and serve customers with our own sales (mail orders and internet sales), which I supplement with my personal professional advice if necessary.
It is good, useful and indeed more and more necessary to know more about this and similar topics!
You have your great chance now.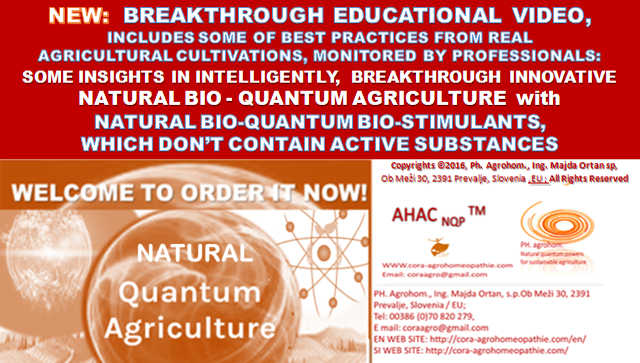 We offer to you the 30 minutes lasting video seminar about breakthrough innovative bio-quantum biostimulants, which don't contain active substances and about some exposed best practices achieved with our products until the year 2017.
YOUR OFFER WITH PRODUCT DESCRIPTION AND COMMERCIAL TERMS IS AVAILABLE UNDER THIS LINK!
Contacts: by phone on tel.: 070 820 279 or email: coraagro@gmail.com. WE INVITE YOU TO ORDER!
More information: http://cora-agrohomeopathie.com/
Contacts: by phone on tel.: 070 820 279 or email: coraagro@gmail.com.
Sources and literature: Karmen Jordan: Nas lahko rastline vidijo? (Can plants see us?) Petra Tompkinson, Christopher Bird: The Secret Life of Plants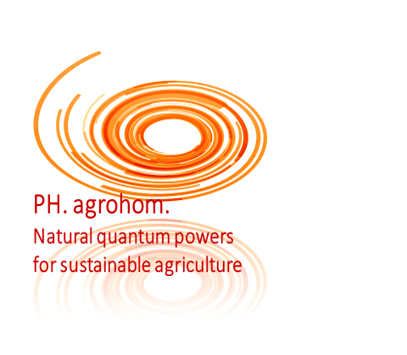 Majda Ortan, ing., Executive director, founder and owner of company,
PH. Agrohom., Ing. Majda Ortan, s.p.,Ob Meži 30, 2391 Prevalje, Slovenia / EU;
Tel: 00386 (0)70 820 279,
Email: coraagro@gmail.com,
LinkedIN: @Mayda Ortan