Nowadays we need to be prepared for processes of photons increasing.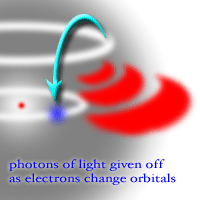 The Earth's vibrations have reached a level that makes changes in our energies irreversible. Nothing else can stop our quantum leap. That doesn't mean you don't have to do anything about it. Quite the opposite: we have a lot of work and even more learning to do about it. We experience situations that we experience and feel for the first time. We are still in transition, along with our planet Earth, which is in the process of crossing the photon band. This time can be tiring – this time is and will be tiring.
Schumann Resonance Peaks: In last two consecutive days its Power was over 50!
Sources: Space Observing System: http://sosrff.tsu.ru/new/shm.jpg.) Data summarizes and comments on the data: Disclosure News, Italy.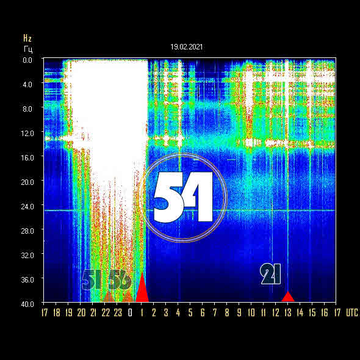 19/2 17:00 The frequency that from 10 UTC is gradually rising from 7.50 Hz towards 7.60 Hz is generating slight movements of the Amplitude which in this phase has reached a maximum of Power 21 at 13 UTC.
19/2 11:30 Yesterday's activity lasted for about 7 hours, from 19 to 1:30 UTC. The maximum peak yesterday was Power 56 at 24 UTC, today's maximum was recorded immediately after, at 1 UTC, at Power 54. In the final balance, the Amplitude remained above Power 45 for 4 hours, from 21:30 to 1:30 UTC. The Frequency during this period of strong activity remained around 7.45 Hz until 1:30 and then began a gradual increase up to the base value reached at 7 UTC; at the time of this update it fell again below 7.50 Hz.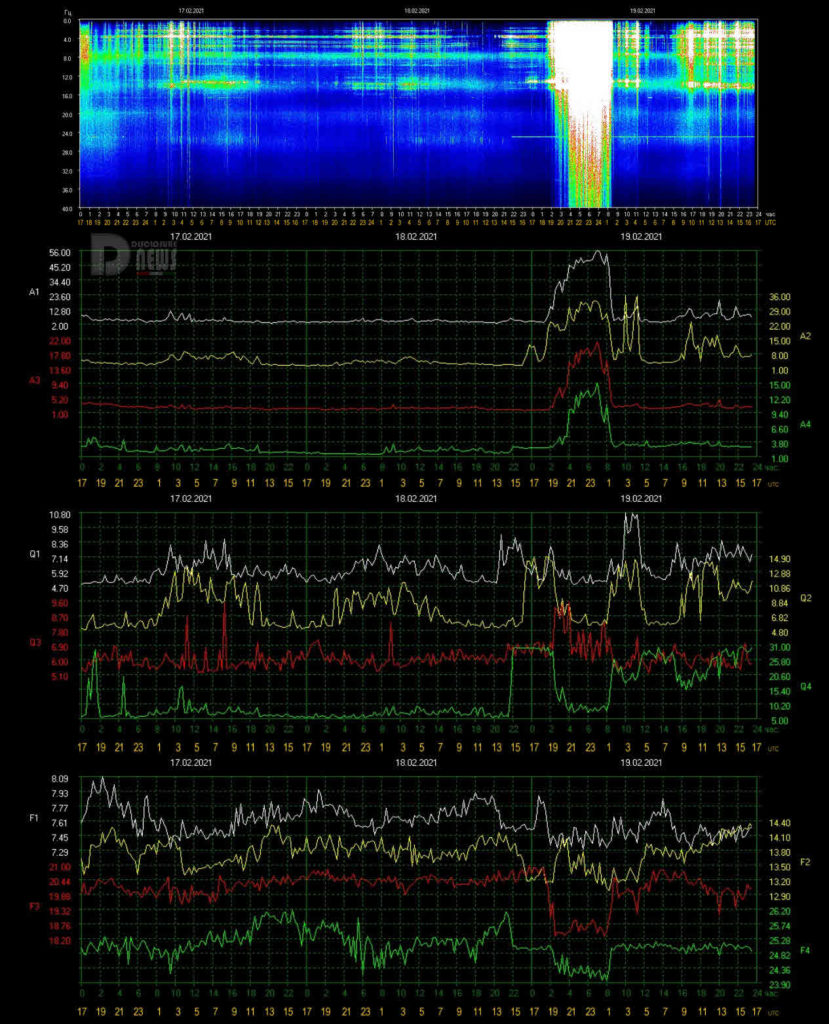 Source: Space Observing System: http://sosrff.tsu.ru/new/shm.jpg.) Data summarizes and comments on the data: Disclosure News, Italy. The Chart time is based on Tomsk – Russia – UTC (Universal Time Coordinated) +7 – Source SR Base Frequency 7.83 Hz.
Planetary K indeks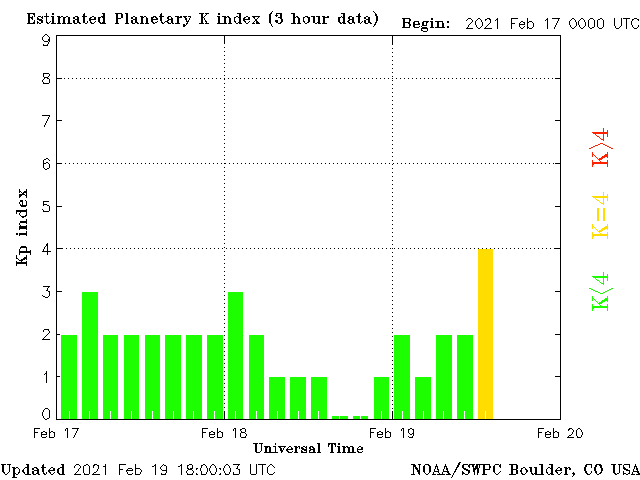 :Product: Geophysical Alert Message wwv.txt
:Issued: 2021 Feb 19 1505 UTC
# Prepared by the US Dept. of Commerce, NOAA, Space Weather Prediction Center
#
#          Geophysical Alert Message
#
Solar-terrestrial indices for 18 February follow.
Solar flux 71 and estimated planetary A-index 4.
The estimated planetary K-index at 1500 UTC on 19 February was 4.

No space weather storms were observed for the past 24 hours.

No space weather storms are predicted for the next 24 hours.
Follow us for more information and knowledge: E – library, The best life in quantum powers ™ , EN website, SI website, LinkedIN, Facebook
WE LIVE IN TIMES OF GREAT CHANGE! OBSOLETE KNOWLEDGE WILL NOT HELP US IN THESE TIMES! "Problems cannot be solved at the level of consciousness it has created." (A. Einstein)
Reach for solutions and knowledge that are appropriate for this time and even necessary!
I strong recommend contents under links below:
*An important SOLUTION for humans and for humanity, which is reveal to us from nature – by BEES,
*The photon belt raises the Earth vibration?
*Actual faces of humanity's "hunger of their life forces" and (some of) its consequences,
*Nourish love to your mind – what this mean in practice
*Potentials of Energy alive food
*** ACTUAL INFORMATION:
1.
Breakthrough innovative, effective, sustainable, natural bio quantum biostimulants provide consumers with energetic living food that strengthens their own vitality, their own immunology, health and abilities of people, and the environment strengthens energy balance of sprayed ecosystems.
In the eight years they have been on the market in Slovenia, they have been well tested in applied research projects, in practical production/growing on agricultural land. The offered video introduces you to some of the best good practices, for instance: in the production of vegetable seedlings; in the production of various vegetables on an area of ​​approx. 30 ha; product without withdrawal period when protecting a late cherry orchard against the pest berry and fruit (Drosophila suzukii); a product without withdrawal period which makes it possible to avoid chemical / mechanical control of seeds weeds; production of energy alive hops; production of energetically live strawberries; effective care of boxwood in the Slovenian arboretum (boxwood moth, boxwood burn). We also provide subscribers to this video with access to comprehensive growing programs (for seedlings of energetically alive vegetables, for energy alive vegetables, for energy alive strawberries, for energy alive cherries, for energy alive apples, which are produced only using our natural bio quantum biostimulants, which do not contain active substances). Through this video we share with you valuable advanced good practices in the field of quantum agriculture as well as your quantum leap…! The offer for orders is for you available under this link. WELCOME TO ORDER IT NOW!
2.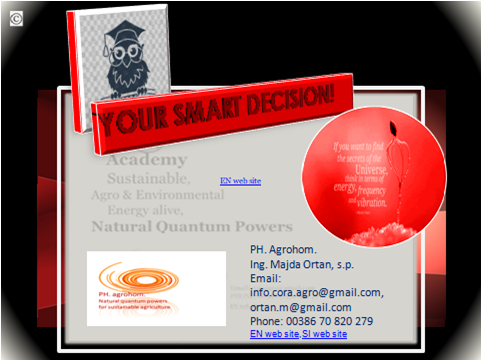 WE ARE LAUNCHING ENROLLMENT for ATTENDING on THE PROGRAM of SAE ENQP Academy 2021/2023!
Implementation of all program modules will be in the online implementation mode. The first module starts on April 19, 2021 and will last until April 24, 2024. INVITED ATTENDERS: Agricultural Consultants, Environmental Consultants, Food Consultants, Bigger agro-DISTRIBUTORS NETS, Agriculture COOPERATIVES, farmers, Academics from agro field, Students from agro fields, Researchers from agro fields, other interested! INFORMATION: under this link! Email contact: coraagro@gmail.com. Deadline for applications and for tuition advance payments: March 15th 2021! Applications are possible only until the seats are filled. INVITED TO ORDER SOON to get your seat in THE PROGRAM of SAE ENQP Academy 2021/2023! You are welcome!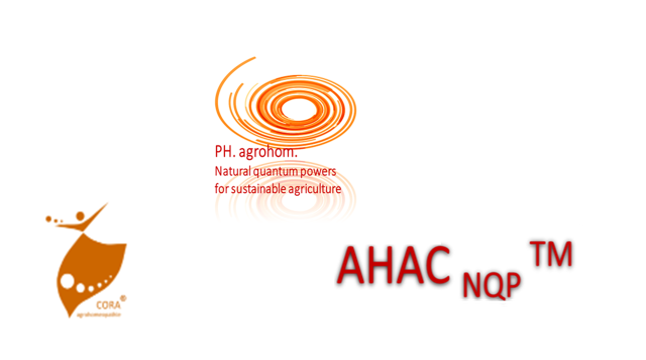 Majda Ortan, ing., Executive Director, Owner and Founder; Ph. agrohom., Ing. Majda Ortan, sp., Šmiklavž 26, Šmiklavž, 2380 Slovenj Gradec; SI – Slovenia / EU
Email: coraagro@gmail.com, ortan.m@gmail.com
Tel.: 00386 (0)70 820 279.