Feed love to your mind is possible with fakes. Indeed, your mind will stay hungry so. A hungry mind is a restless mind.
A strong mind is calm. Mind needs to be nourished to become strong. To nourish your mind is posible only with truth.
LOVE = TRUTH
YOU CAN ONLY NOURISH YOUR MIND WITH THE TRUTH.
Why most people find this difficult? Most people are horrified at the thought of not being loved. Therefore, the truth has been easy to hide for centuries and millennia. When a person is afraid, he feels uncomfortable, helpless, insecure. Therefore, most people avoid fear. But, not everyone. Fear is just the naming of a feeling of more or less intense discomfort. It causes stress and illness, law vibrations in the body, . Outwardly, people hide it under the guise of arrogance, evil, sociopatism, jealousy, greed, the need to control everyone and everything, excessive servitude, subjugation, even "slavery". Fear has many faces.
A feeling of fear is a condition in the human body produced by the human body for the purpose of alerting to a threatening safety. If we build security on illusions, on the untruths, we have been taught, then we can conclude that the feeling of fear is a warning against the collapse of these illusions. Such a feeling of fear disappears when we face it. It's nothing special, everyone can do it once they know what to do and how to do it.
The first step is to be aware that we are afraid and to admit it to ourselves.
The second step is to allow ourselves to feel this fear, to give it our attention, while taking a deep breath with the abdominal extension. This should take a few minutes. Sometimes during this time the feeling fades, sometimes it still persists. The next step is to ask ourselves what this feeling is telling us. We accept the answer when it arrives. Sometimes right away, sometimes after a while, when we've been in other activities for a long time. This answer must be accepted and used correctly for oneself. And that's all regarding the mode of transform fears into peace in your mind and body. Use this process when fear arises. And you will see that it will always be easier and eventually you will get into the habit. You will take back a lot of your strength. Just one more thing: When you notice people who are afraid, when you notice the characteristic masks with which they hide their fear, find a way to convey the content of this message to them. Do it compassionately, the way to do it is shown when it is so right.
JUST DO IT!
ANNOUNCEMENT OF THE NEXT POST about: What do your food & mode of its growing, the abilities of your brain, light, consciousness, Schumman's resonance and the quantum reality of life have in common (QUANTUM BIOLOGICAL ASPECTS OF LIVING INTELLIGENCE). I propose, pay attention to this next post, that is sure it will change your life. I hope it will be read by many, many farmers, agricultural consultants, agricultural students and their professors, food experts and food consultants, ecologists, climatologists, and of course as many people as possible from the lay public – as we are food consumers, the Earthlings in these breakthrough times and at the same time we are the people, who want to succeed, live a quality, health life and enable our successors to do the same.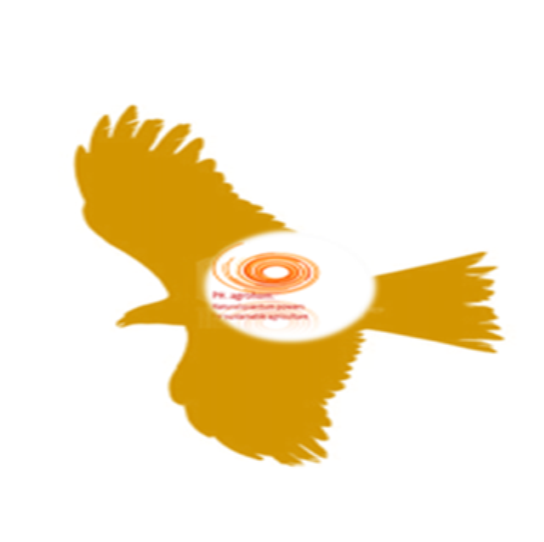 Best,
Ph. agrohom., Ing. Majda Ortan sp, Šmiklavž 26, Šmiklavž, 2380 Slovenj Gradec, Slovenia / EU
Contacts:
Email: coraagro@gmail.com
Tel.: 00386 (0)70 820 279
Follow us for more information and knowledge: E – library, The best life in quantum powers ™ , EN website, SI website, LinkedIN, Facebook
WE LIVE IN TIMES OF GREAT CHANGE! OBSOLETE KNOWLEDGE WILL NOT HELP US IN THESE TIMES! "Problems cannot be solved at the level of consciousness it has created."(A. Einstein)
Reach for solutions and knowledge that are appropriate for this time and even necessary!
I strong recommend contents under links below:
*An important SOLUTION for humans and for humanity, which is reveal to us from nature – by BEES,
*The photon belt raises the Earth vibration?
*Actual faces of humanity's "hunger of their life forces" and (some of) its consequences,
*Potentials of Energy alive food
*** Our Actual Information:
1.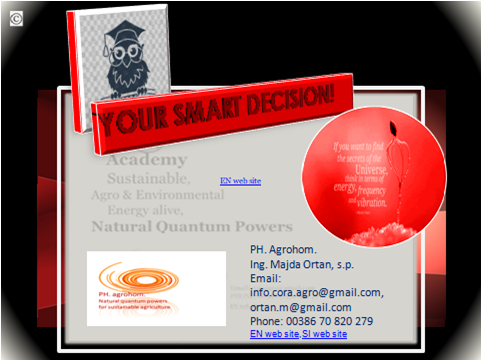 WE ARE LAUNCHING ENROLLMENT for ATTENDING on THE PROGRAM of SAE ENQP Academy 2021/2023!
Implementation of all program modules will be in the online implementation. The first module starts on April 19, 2021 and will last until April 24, 2024. INVITED ATTENDERS: Agricultural Consultants, Environmental Consultants, Food Consultants, Bigger agro-DISTRIBUTORS NETS, Agriculture COOPERATIVES, farmers, Academics from agro field, Students from agro fields, Researchers from agro fields, other interested! INFORMATION: under this link! Email contact: coraagro@gmail.com. Deadline for applications and for tuition advance payments: March 15th 2021! Applications are possible only until the seats are filled. INVITED TO ORDER SOON to get your seat in THE PROGRAM of SAE ENQP Academy 2021/2023! You are welcome!
2.
Breakthrough innovative, effective, sustainable, natural bio quantum biostimulants provide consumers with energetic living food that strengthens their own vitality, their own immunology, health and abilities of people, and the environment strengthens energy balance of sprayed ecosystems.
In the eight years they have been on the market in Slovenia, they have been well tested in applied research projects, in practical production/growing on agricultural land (in collaboration with farmers, agricultural consultants, agricultural specialists, researchers). The offered video introduces you to some of the best good practices, for instance: in the production of vegetable seedlings; in the production of various vegetables on an area of ​​approx. 30 ha; product without withdrawal period when protecting a late cherry orchard against the pest berry and fruit (Drosophila suzukii); a product without withdrawal period which makes it possible to avoid chemical / mechanical control of seeds weeds; production of energy alive hops; production of energetically live strawberries; effective care of boxwood in the Slovenian arboretum (boxwood moth, boxwood burn). We also provide subscribers to this video with access to comprehensive growing programs (for seedlings of energetically alive vegetables, for energy alive vegetables, for energy alive strawberries, for energy alive cherries, for energy alive apples, which are produced only using our natural bio quantum biostimulants, which do not contain active substances). Through this video we share with you valuable advanced good practices in the field of quantum agriculture as well as your quantum leap…! The offer for orders is for you available under this link. WELCOME TO ORDER IT NOW!
3.

We are for sure open for mutual benefitial and successfully business partnership. If you will make a decision that you are interested in our mutual win-win business cooperation – as foregin exporter, importer, please, don't hestitage and send me an email demand on coraagro@gmail.com. Thank you!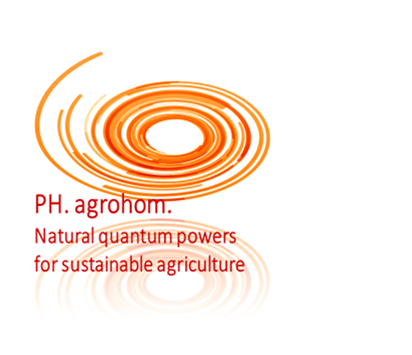 WE ARE CREATING A GREAT POSITIVE DIFFERENCE FOR US, FOR YOU, FOR EVERYONE and FOR THE WORLD IN WHICH WE LIVE. OUR VISION AND OUR MISSION, OUR PASSION, PROFESSIONALISM & PRIORITY: