SALVATION IS THE OLDEST AND AT THE SAME TIME THE LATEST, MOST INGENIOUS, MOST ADVANCED.
AGRO-HOMEO-NATUROPATHIE ™: THE RIGHT NEW DIRECTION ON REGENERATIVE, SUSTAINABLE, NATURALLY GROWING OF FOOD IN EXTRA EMINENT QUALITY.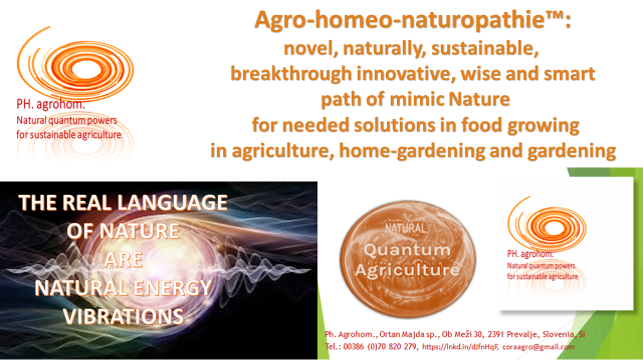 In the autumn of 2012, I placed my breakthrough innovative, natural products on the Slovenian market, which in practice have proven that they can replace pesticides. Their innovative, sustainable advantage is that they do not contain measurable active substances. The Food Safety Agency of the Republic of Slovenia advised me to place them on the Slovenian market as products for general use, which means that they do not need registration in terms of legislation on the placing of plant protection products on the market. Nevertheless, as many as 64 products obtained a certificate of conformity for use in organic farming, issued by the Institute of Organic Agriculture, Faculty of Agriculture and Biosystem Sciences, University of Maribor / Slovenia (SI) / EU.
The Food Safety Agency of the Republic of Slovenia of course checked the possible content of active substances in my products. Apparent or a hidden actual customer bought my products from regular production under a fictitious name and then sent it to a recognized foreign laboratory for chemical analysis as the Food Safety Administration of the Republic of Slovenia. The result confirmed that by analyzing the samples on 573 active substances, none of these active substances were present in the analyzed sample. Given to the fact that the absence of active substances in my natural, sustainable, breakthrough innovative and effective products is ensured by my manufacturing technology, I would get such a result in the analysis of any of my products.
The products are used diluted with water as a spray. Their properties provide many advantages:
– in fact, they are free of harmful effects on the environment, ecosystems, people;
– their proper use at the energy level completely regenerates sprayed plants, soil, ecosystems and thus strengthens the balance and (on the energy level) equilibrium conditions for natural homeodynamics, homesis, xenohormesis;
– there is no withdrawal period after their use – all crops are edible even immediately after spraying;
– the use of personal protective equipment is not required when spraying; – their appropriate use strengthen the overall energy balance in treated ecosystems – in a natural way and thus there strengthen natural homeodynamics processes; – 61 of those products are certificcated as compliance for use in organic farming,organic gardening, organic home gardening.
While those great products do not content any (measurable) active substances, per instructions of Slovenian Food Safety Authority they do not need any registration, do not fall under EU law valid for pesticides and are placed on Slovenian market as products for general use. (Slovenia is small country in EU – member of EU members).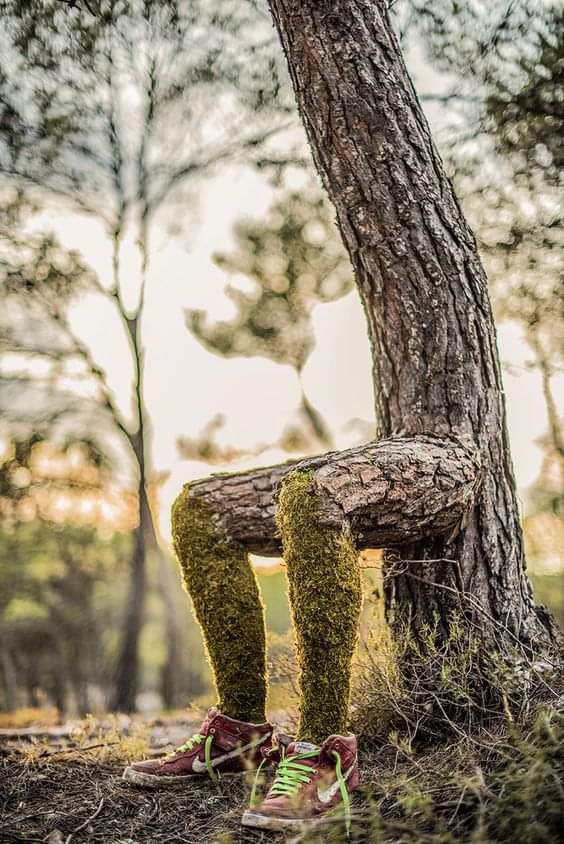 Already Nikola Tesla relied on the Natural Order to solve the global challenges of humanity in many "genius" inventions. He knew how the actual energy state in Nature is the source of All that is. The vast majority of people are still "blind and deaf" to this. Therefore, the real problem of today 's humanity is the fact that many people are really disconnected from Nature and the Natural Order, disconnected" from it. In this way, they are "disconnected from themselves as well, and this is the main reason that People, Humanity, Nature and our Planet are where they are today. Global challenges are symptoms and" removal or. treatment of symptoms" will not change the original problem it generates or causes. Therefore, when setting sustainable goals and strategies to achieve them, it is by no means enough to regulate it only at the" technical "level. Success requires a comprehensive insight, a holistic approach. This should become clear to everyone and with this awareness we should create goals and strategies for achieving holistic sustainability, holistic sustainable development in accordance with the Natural Order, which is holistic.
SUSTAINABILITY AND SUSTAINABLE MUST BE AT THE SAME TIME IN ACCORDANCE WITH THE NATURAL ORDER!
Everything else, everything different is a sustainably viewed work of Sisyphus.
Parallels, Answers to the most common questions
Which are relations with homeopathie, agrohomeopathie and Agro-homeo-naturopathie? Please, find my answer under this link.
Is there any similar solutins between my Agro-homeo-naturopathie and biodynamic preparations. My answer is NO. Please, read my explanation, under this link.
Please, note: This published post and all my posts below the links in this text, express only the personal views of the author, created through learning, in-depth professional work, and her own experiences. Copyright © 2021, Majda Ortan, Ing. Chem. Tecnol., Šmiklavž 26, Šmiklavž, 2380 Slovenj Gradec, SI – Slovenia / EU. All Rights Reserved!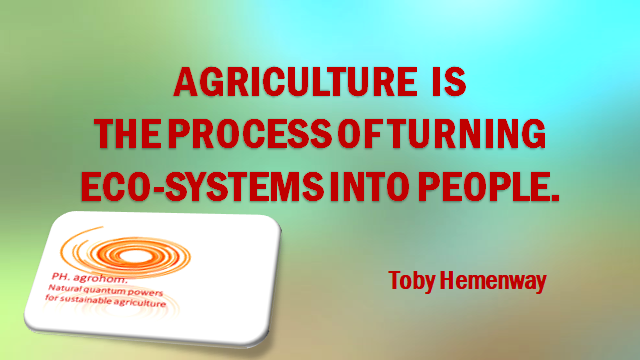 GROW YOUR FOOD SUSTAINABLE,
ON INDEED NATURALLY WAY,
NOW IT IS INDEED POSSIBLE: